For around $250,000, KU students designed and built a passive solar house while participating in Studio 804 program within the School of Architecture, Design and Planning.
(via CJ Online)
Abi Davis knew she wanted to be an architect at an early age. It was a field in which she could combine her love of math, science and art. She already had her sights set on studying at the University of Kansas, but once she was on campus, she learned about Studio 804, a hands-on approached to learning architectural skills.
Davis was among the 10 graduate students who designed and recently finished building a 1,300-square-foot passive solar house in East Lawrence as part of KU's Department of Architecture's Studio 804 program. The students worked under the supervision of Dan Rockhill, a KU architecture professor who directs the program.
Davis, who earned a master's degree in architecture in mid-May and whose specialty is architectural acoustics, said she learned to hang drywall and build steel screens and gained confidence in her physical ability to do other tasks. She and the other students also had to learn to communicate with each other, blend their ideas and come to a consensus.
"I saw things larger than life go up in front of my eyes," said Davis, who will begin working this month as a consultant in Santa Monica, Calif. "It was a once-in-a-lifetime experience."
Construction started in August and was completed in early May. The house maintains Studio 804's high level of sustainable design, while remaining contextually sensitive to the neighborhood.
"This is all sustainable," Rockhill said at a recent viewing of the passive solar house. "We have an obligation to the world to (move toward) sustainability."
The Studio 804 structure's steel exterior is reminiscent of the steel Lustron houses developed in the United States after World War II in response to the lack of housing for returning veterans. The insulated metal panels used to build the house were left over from the construction of the tennis center at Rock Chalk Park, on the west edge of Lawrence.
The house uses passive strategies for lighting and sun shading. The bedrooms, kitchen and living room are arranged along the south wall to take advantage of natural lighting. A steel screening system on the south and west sides of the home enhances natural lighting.
The home's open plan creates flex-spaces that can be reconfigured based on the owner's needs. For example, the glass-enclosed area at the southwest corner of the house, which adjoins the kitchen, can be used as a dining room, solarium or reading room.
"The kitchen is the only permanent thing in the house," said John Coughlin, a Studio 804 participant who earned his master's degree in architecture in mid-May.
Other features include 9-foot-high ceilings, imported WaterSense-rated plumbing and Energy Star-compliant, Italian-made kitchen appliances. The kitchen's red-oak European cabinets are topped with cold-rolled steel countertops. The floors are polished concrete, and the recessed lighting fixtures are fitted LEDs.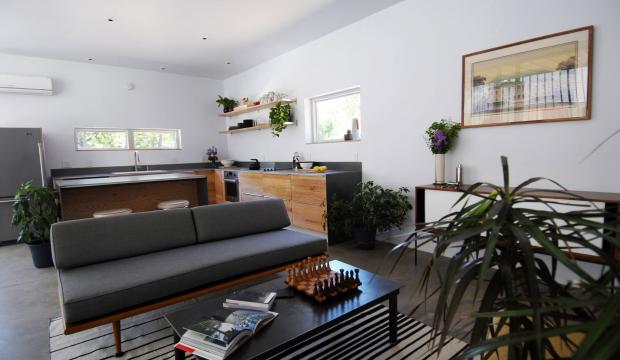 A hanging pendant in the dining room is an original Louis Paulsen fixture, crafted in Denmark and purchased for reuse in the project.
Because there is no attic or basement, Coughlin said, storage areas are built into the north side of the home's hallway.
Insulation includes both rigid and blown-in cellulose that exceeds U.S. Green Building Council LEED-rating standards, which allows the house to have all-electric climate control, appliances and lighting. A net-metered photovoltaic solar array, consisting of 16 panels, is capable of providing 4.8 kilowatt-hours of power.
The price of the passive solar house, which sits on a 40-by-132-foot lot at 1330 Brook St., is $249,000. The adjacent lot north of the house can be purchased for $30,000. The additional lot could be used for a garage, studio, garden, orchard or another structure.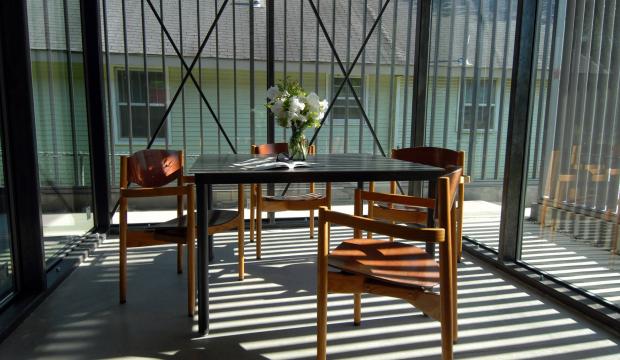 "That's a bargain price," Rockhill said. "If sold on the market, it would be twice that."
The house, which is close to downtown Lawrence and is handicap-accessible, may be particularly attractive to those who are downsizing, he said.
If the adjacent lot isn't sold, Rockhill said, the Studio 804 program may build a sustainable structure there next year.
https://www.studyarchitecture.com/wp-content/uploads/KU_house.jpg
360
620
Amanda Gann
Amanda Gann
2017-06-05 20:37:47
2017-06-05 20:37:47
KU Students Build Passive Solar House