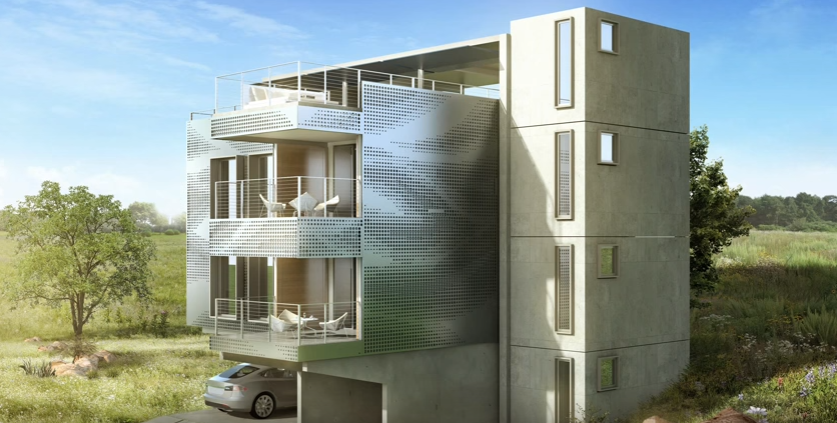 (via Mobile Mag)
Getting builders to construct your own planned house on your property is like having a car maker come and assemble your car in your driveway. But according to Clive Vorster, visiting professor of architecture at Virginia Tech's School of Architecture and Design, it makes more sense to build the components off-site then ship them, but he and the research team involved with the FutureHAUS want to do so without flimsy, lightweight materials. The team has been building separate modules for different areas of a house, and they brought the bedroom "cartridge" to the recent KBIS 2017 (Kitchen and Bath Industry Show) in Orlando, Florida. Each separate piece has a sort of piano hinge that allows it to fold up, and three cartridges can fit in or on an 18-wheeler. But the modules can't just fit together in a structural sense because they need to be synchronized. You see, the goal is to eliminate all visible buttons that you normally see in homes.
When you walk from the kitchen to the bedroom, the light should follow you, thanks to occupancy sensors in the couch and around the room. That means you don't need light switches. Power outlets are also missing. Instead, the table uses inductive charging to power up your phone. Most of the furniture pulls double duty. The panels on the wall aren't just decorative; the Gorilla glass hides a transducer that generates sound, instead of installing traditional speakers. Lie down on the bed, and it will adjust to your comfort level, while the other side is suited to your spouse. A panel above the bed can work as a TV screen or light panel. The ambient lighting adjusts based on what you're watching. Taking a cue from sci-fi films, a screen on the wall lets you select your outfit.

---
Read more on Mobile Mag's website. And make sure to visit Virginia Tech's page on StudyArchitecture!
https://www.studyarchitecture.com/wp-content/uploads/virginia-tech-futurehaus.png
435
837
Amanda Gann
Amanda Gann
2017-01-18 20:10:19
2017-01-18 20:34:39
Virginia Tech's FutureHAUS Explores Pre-fab Future of Housing