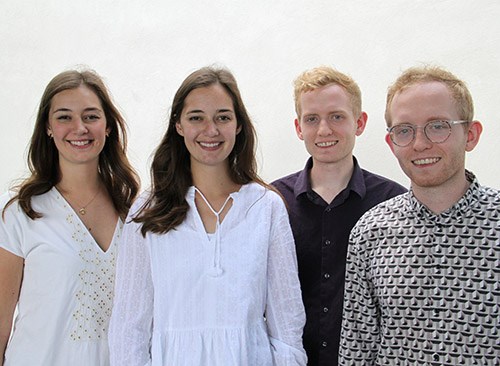 Have you ever wanted to talk to someone who has studied architecture and ask their advice? The University of Arkansas asked four students to share their experience and advice that they have for incoming students!
(via University of Arkansas News)
Double Take on Architecture School
Dylan and Evan Hursley and Hannah and Sarah Moll are much like other design students in the Fay Jones School of Architecture and Design at the University of Arkansas. In spending countless hours in studio over the past few years, Vol Walker Hall became a second home for these senior students. They strived to maintain a balance between schoolwork and their personal lives, sought guidance from professors and stressed as they prepped for reviews. They invested much time and energy in design ideas and iterations, and they took advantage of breaks when they got them.
Along this journey, they've had unique allies — each other.
Both the Hursley brothers and the Moll sisters are twins. The Hursleys are from Little Rock, while the Molls hail from Edmond, Oklahoma. Now 23, they all were born in September 1993.
The fact that they're twins can cause a double take for those around them sometimes. But for both pairs of siblings, having this livelong partner and best friend has made all the difference in their design school experience.
Discovering Design
Hannah and Sarah remember when they discovered the university during a weekend trip to Fayetteville a few years ago. Their brother, Philip — who also graduates this Saturday, from Oklahoma State University — was competing in the Chile Pepper Cross Country Festival.
The family wandered around campus, found their way into Vol Walker Hall, and flung open the doors to the grand second-floor studio. Design students were gathered around tables making models on a Friday night.
"That's, I think, the epiphany moment where it clicked, and it was like, 'This is what I want to do,'" Sarah recalled. "'I didn't know this world was really here, but this is what I want to do.'"
That visit secured Sarah's interest in architecture, but Hannah was still planning to pursue nursing. At the 2012 freshman orientation, Fay Jones School students talked about landscape architecture, and Sarah immediately knew it was a good fit for Hannah — who likes to think about how things work and has a deep appreciation for nature. Sarah was right, and Hannah signed up to start that fall.
The Molls played multiple varsity sports in high school, so they were used to commitment, long hours and finding balance — all good preparation for design school. They also were involved in stagecraft, helping design and build sets for school theatrical productions, which made them really connect to those students they saw making models on that first Vol Walker Hall visit.
The Molls also received in-state tuition rates, which was a more affordable option for a family with three children in college at the same time.
In her first semester in Memorial Hall, Hannah remembers how the first-year landscape architecture students sat right next to fifth-year students, and they all talked about their projects. It felt like a home.
"It felt like nothing that I had ever expected for a college experience, to be such a one-on-one experience," Hannah said. "I think we're very blessed that we've got such a small and intimate school, that we can really work with our professors, and we get to see them in studio for 12 hours a week."
Sarah took a longer road to her destination. She started in the architecture program in the former Field House. But her health problems wouldn't let her work for sustained lengths of time. In the spring 2013 semester, she switched to landscape architecture. She enjoyed it, but didn't love it like Hannah did, and she missed buildings. So she switched to interior design, which happens at a scale she enjoys.
Getting Involved
The sisters have had many honors and scholarships during their college career. This year, Sarah received the Interior Design Medal of Excellence Award for having the highest GPA in her graduating class. Hannah received the Tau Sigma Delta Bronze Medal from the Fay Jones School and an Honor Award from the state chapter of the American Society of Landscape Architects for her leadership and body of work over the past five years.
Hannah, who is also in the Honors College, spent her final semester working on her honors thesis. She chose to use photography and painting to analyze the landscape architecture at the Arkansas Agricultural Research and Extension Center.
They've both had leadership positions in student organizations — Hannah as president of the campus ASLA chapter, Sarah as philanthropy and recruitment chair of the American Society of Interior Designers chapter. This meant helping to make many events happen — most of the time helping one another — including Voloween, a Halloween-themed pumpkin-carving event; a chili cook-off, which had entries from school students and faculty; the Beaux Arts Ball, an end-of-spring-semester formal event for students; and Park(ing) Day, transforming a parking spot on Dickson Street into a park for a day.
Support System
During their time in college, as with all the years before, the Molls have lived together, attended school together and were together most of the time. They're both passionate about design, so the conversation rarely stopped. They both knew they'd receive honest answers from one another.
"I think that we rely on each other a lot for confidence and reassurance, and we're a team. Our parents raised us to be a team," Hannah said.
That was especially important as Sarah dealt with peripheral neuropathy while in the rigorous design programs. Medication prescribed for a sinus infection in high school left her with permanent nerve damage. That has manifested in a range of effects: tremors and twitching, numbness and a lack of physical strength, and a constant burning sensation that feels like ants crawling across her body. Stress makes those sensations worse.
So, together, the sisters have focused on balance — trying to eat well, resting, taking walking breaks and, more recently, swimming. And much of their time together naturally has been spent talking about design.
"It's great because we're like each other's own consultants constantly," Sarah said, "and we're on call at all times."
"We're constantly looking out for each other. We're really blessed in that way, and totally spoiled," Hannah said.
"We definitely work as a unit, so it will be very strange when we split," Sarah said.
After graduation, Sarah plans to return to Oklahoma, to finally close the distance with her long-distance boyfriend, before looking for a job. And Hannah will work on some projects over the summer in the professional landscape architecture firm of her professor Phoebe Lickwar, before starting her own job search.
From Physics to Architecture
Growing up in Little Rock, Dylan and Evan Hursley were interested in science and art. Their dad is a renowned architectural photographer, and their mom is an artist. Both influenced them by exposing them to beautiful art and good photographs of good architecture.
Evan recalls a family trip to Seattle, where they saw the Experience Music Project, a Frank Gehry design. "It has this like oil spill color of metal panels. I just have this vivid memory of this oil spill that's a building. That's one of my first memories of architecture."
They also took many road trips — visiting New Orleans and communities across Arkansas, many in the Delta. Their dad, Timothy Hursley, has a particular interest in dilapidated and decaying structures.
They attended Catholic High School for Boys in Little Rock, which was strong in sciences, so they both decided to major in physics in college. They were skilled at math, but they realized once they got to college that physics didn't interest them as a career.
"So, art and physics seemed to combine to make architecture," Dylan said.
Because they'd started in physics, they had to wait until the next year to begin the first design studios. But they got caught up quickly by attending the summer sessions.
They were only ever interested in architecture. Evan said the discipline is challenging and offers a different way of thinking, unlike math, where a problem has a single solution.
"I think it's interesting in architecture; it's just like a multitude of solutions for each problem," he said.
They realized they'd made the right choice when their studies became like an obsession. Dylan said he didn't think about physics after class. "But with architecture, you're thinking about it all the freaking time."
Meaning in the Work
In their third year, the brothers were in a studio, working directly with professors Frank Jacobus and Chuck Rotolo. They were among several students who submitted their design work to the Lyceum Fellowship competition and won. Dylan won second prize, while Evan received a merit award. They were both in their shared apartment the last weekend of Spring Break 2015 when each received a congratulatory call about 10 minutes apart.
Their projects proposed redesigns of the Empire State Building to better suit an aging population.
"It was where it all clicked. You're able to actually do something that means something," Dylan said. "The professors that year were really open to any kind of idea. And were really helpful in helping you pursue those ideas."
Evan said his hand-drawing skills weren't very developed at that point, and using the computer so strongly as a tool was revelatory to him. "It gave me some agency in terms of being able to truly represent an idea in a project."
They have taken most of the same studios together, though they were in different sections. Each semester, they added new close friends, often with the students seated nearby in studio. They both met their girlfriends in studio. And during study abroad in Rome, they shared an apartment with friends from studio, which strengthened those friendships.
During their semester in Rome, they both developed their abilities to analyze a structure and improved their hand drawing skills by creating a series of travel sketches. No matter the perspective of the subject, the sketches had to be "fast and accurate," Evan said.
The Hursleys, who are both in the Honors College, each did different projects for their senior theses, during the fall semester. This spring, they took different elective studios.
They learned to keep level heads when receiving critical feedback during design reviews that all students experience. Sometimes, that critique can feel quite personal and put students over the edge.
Dylan said he learned to take in the information and try to see what the critics see — and what they mean. "They're just trying to help you. When you receive that feedback, it kind of helps inform your own self-perception of the critical," he said.
"The goal is to make us all good designers, so you've got to remember that. Just becoming more open to feedback," Evan said.
The Best Policy
The brothers lived in an apartment close to campus, which allowed them to walk to school. They cooked at home a lot and took care of their laundry there. Before college, they didn't drink coffee. By the end, they were often getting a cup two or three times a day.
Going through this journey together is the only way they would have done it. After graduation, they plan to pursue jobs at different firms — probably in a major coastal city — and then maybe go to graduate school. They're considering opening a firm together, down the road.
"Being able to get truly honest feedback from another individual is helpful — besides a professor or someone else," Evan said. "It's not as intimidating" to ask each other, Dylan added.
Their close relationship allows that frankness. They don't feel like they're competing, and they certainly don't try to. And they share some of the same goals.
"We never really fought with each other," Dylan said. "We both want each other to do well, so that helps when you ask someone to come look at your work."
"It's been nice being able to ask someone who for sure has your back," Evan said.
---
https://www.studyarchitecture.com/wp-content/uploads/universityofarkansas_twinstellall.jpg
366
500
Amanda Gann
Amanda Gann
2017-05-11 16:01:29
2017-05-11 19:01:15
Students Share Tips for Architecture School