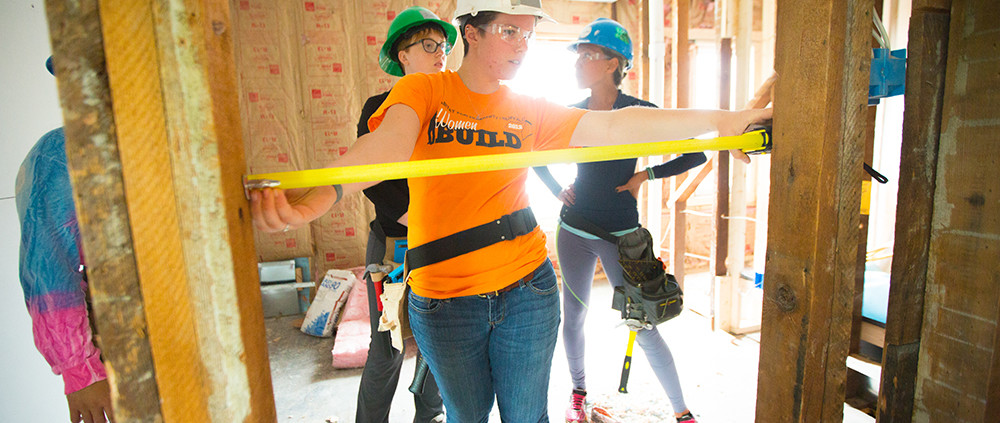 (via UB News Center)
Home for All: University of Buffalo Design Students Use Universal Design Principles to Design Habitat for Humanity Home
Later this summer, a family will move into their new home on Buffalo's East Side. Thanks to a pilot project between Habitat for Humanity and the University at Buffalo's School of Architecture and Planning, the family will be comfortable staying in the house for a long time, even as its members reach their elderly years.
Students created designs for the home renovation that feature principles of universal design – a first for Habitat Buffalo.
Universal design seeks to increase usability, health and social participation for a diverse population. The home on Sussex Street, near Erie County Medical Center, will be the first to be completed as part of the UB-Habitat pilot project.
It started in the fall with a one-semester studio taught by Ed Steinfeld and Peter Russell. Steinfeld is a professor of architecture and director of the Center for Inclusive Design and Environmental Access (IDeA Center) in UB's School of Architecture and Planning. He's also an internationally renowned expert on universal design. Russell is the manager of the school's Materials and Methods Shop.
Steinfeld and Russell challenged their students to develop innovative solutions to difficult problems of affordable housing design and construction that Habitat for Humanity could adopt. Students produced construction documents, research reports and visualizations to communicate their innovative ideas.
In a spring construction course taught by Russell, students then worked on the home, performing demolition and building alongside Habitat's team of volunteers. The house is close to being ready for occupancy.
"I cannot think of a more complete package partnership than this: UB students design and build a house that will actually go to a Habitat family. It's awesome," said Barry Weiss, the construction manager for Habitat Buffalo.
"The studio portion of this pilot was hugely successful," he said. "Normally, we have one designer develop a blueprint for our houses. For the Sussex Street home, we had 12 students offering different ideas. That allowed us to choose from a variety of options to find a design that would be most appropriate for that particular family and for the way that we build. It was an exciting opportunity for us and we look forward to doing it again in the future."
All amenities — including the laundry facilities — are accessible from the first floor. In addition, the first-floor bathroom will include storage shelving that could be removed years from now, creating space for a roll-in shower. The back of the house was designed to accommodate a lift, again allowing for aging in place to occur.
"I wanted to create a house design that's accessible for all," explained Gallersdorfer, an Akron, New York, native who received her master of architecture in May. "The whole idea is that by planning for these things now, you can save on costs down the road as the family ages. I wanted to show that it's possible to make adaptability affordable."
(via UB News Center)
—
Check out University of Buffalo's profile page on StudyArchitecture.com!
https://www.studyarchitecture.com/wp-content/uploads/sussex-st-house-5_web.jpg
667
1000
Amanda Gann
Amanda Gann
2016-07-20 15:46:44
2016-07-20 17:50:57
U. Buffalo Designs A Home for All