(via Dezeen)
Students and faculty at the University of Miami's architecture school constructed a performance venue from a series of orange poles underneath the city's Brickell MetroRail station. The temporary Brickell Stage was designed and erected by a group from the university, and hosted a range of free outdoor performances that included music, comedy and poetry.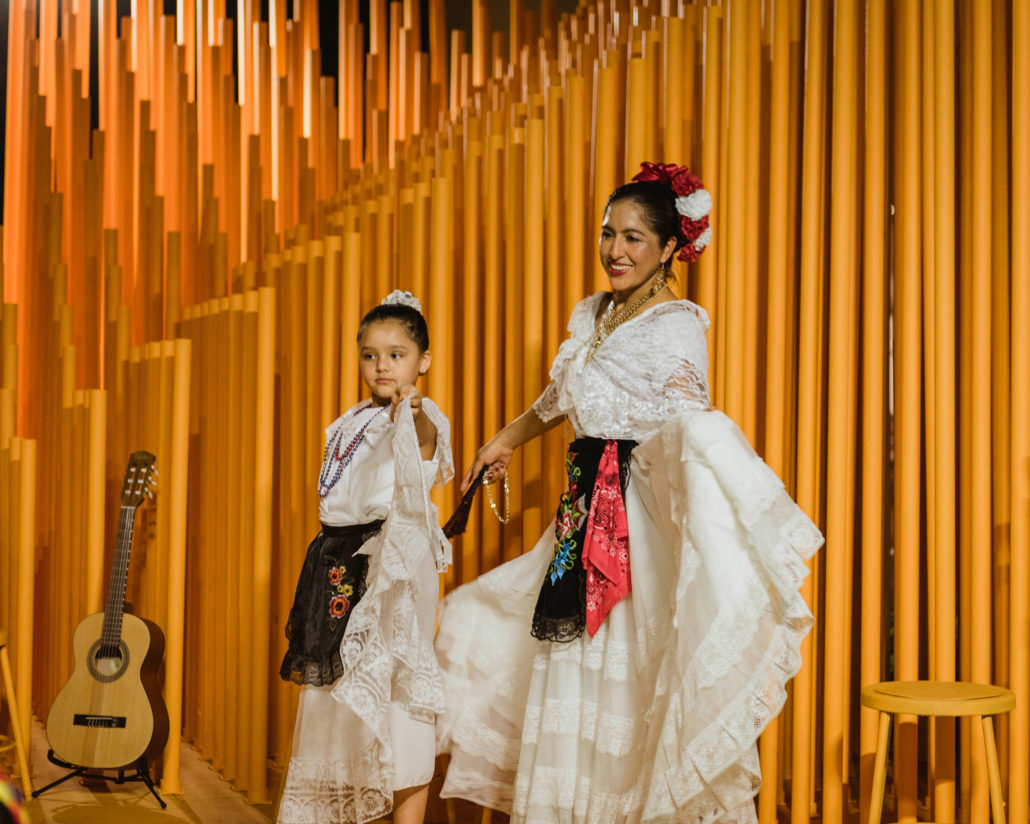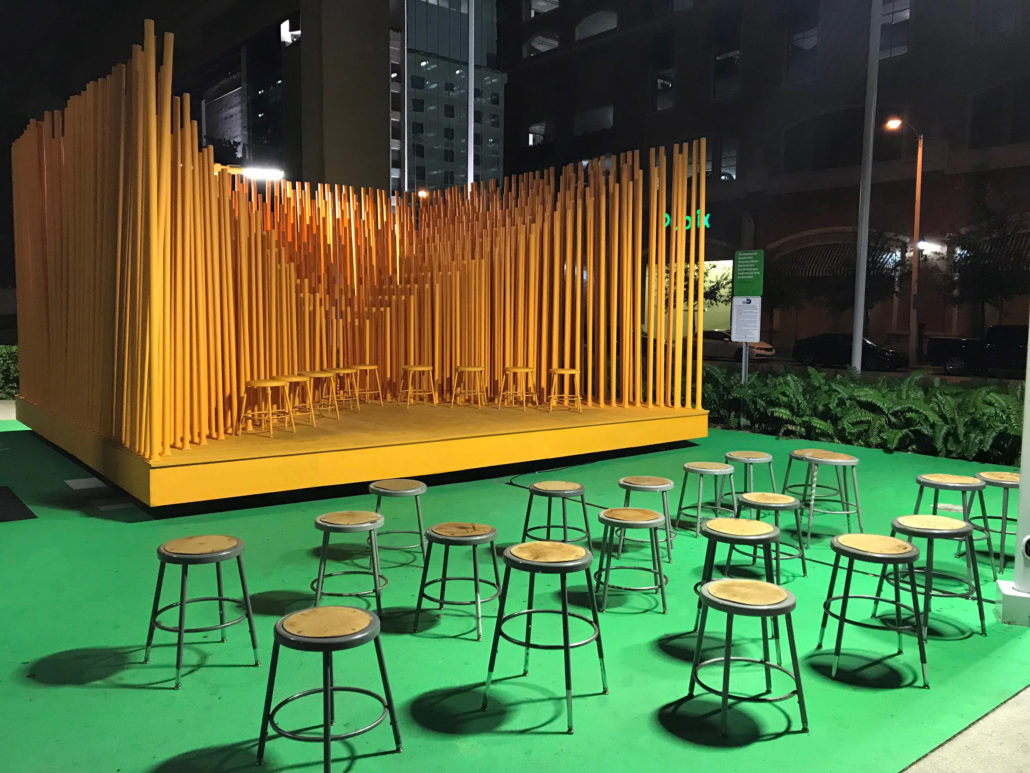 It comprises 1,001 orange-painted rods, fixed vertically to a square base in the same colour. The poles decrease incrementally from three sides to the centre, leaving a triangular area at the front to be used as a stage. "This design creates a forced perspective that focuses the attention of the spectators on the performers and heightens the visual experience for all," said a statement from the team.
Lights attached to the branches of T-shaped poles were positioned at the front and back of the square base, to illuminate the structure and allow performances to take place at night.
Performers could make use of matching orange stools, while the audience was able to arrange themselves as they pleased across a patch of green flooring.
"The open-air structure creates a sense of place with an elevated stage and flexible seating to host a variety of free interactive performances," the team said.
The stage was installed to coincide with the Art Basel fair and wider Miami art week, which took place 7 to 10 December 2018.
The project was a winner of The Miami Foundation's Public Space Challenge, which promotes the creation and enhancement of parks and potential gathering spaces in the city.
Brickell Stage was installed along what will become The Underline, a linear park that follows beneath the elevated metro rail lines.
Designed by James Corner Field Operations – which worked on the similar High Line in New York – the 10-mile-long (16 kilometre) trail will run from Brickell Station to Dadeland South Station, and is due to open in 2020.
Photography is by Carlos Domenech.
Project credits:
Design Team: Cristina Canton, Jaime Correa, Adib Cure, Steven Fett, Carie Penabad, Elie Mehreb, Bernardo Rievling, Qiazi Chen
Production team: Tiffany Banks, Andrew Dai, Emily Elkin, Max Erickson, Marisa Gudiel, Elsa Hiraldo, AJ Guillen, Andrea Hernandez-Torres, David Holmes, Laura Martinez, Israel Martinez, Sydney Maubert, Christel Orbe, Mario Ostalaza, Cynthia Pacheco, Dorianne Paris, Cristian Ruiz-Lucio, Jack Shao, Stephanie Tarud, Yuanxun Xia
https://www.studyarchitecture.com/wp-content/uploads/brickell-stage-university-of-miami-architecture-school-design-installations_dezeen_2364_hero-1704x959.jpg
959
1704
Amanda Gann
Amanda Gann
2018-01-19 15:54:31
2018-01-19 15:58:08
U. Miami Students Install Bright Orange Stage Below Miami Transit Center