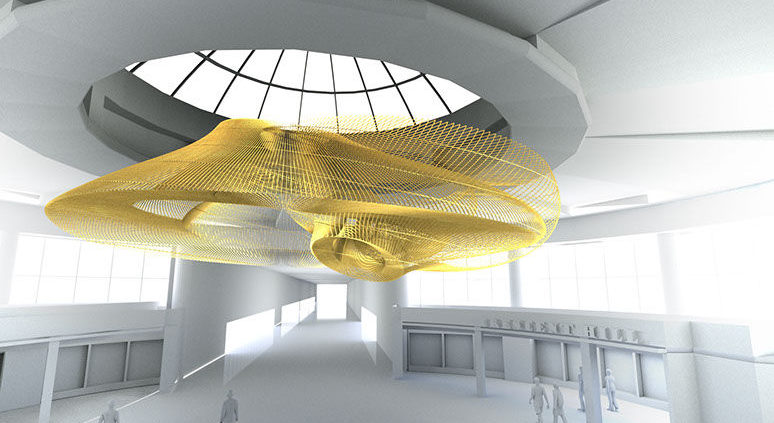 (via Kentucky Kernel)
UK School of Architecture professors Mike McKay and Liz Swanson designed the sculpture called "The Intertwining," which will be permanently installed in the Louisville International Airport. McKay said he and Swanson put a lot of energy into their most recent accolade. The pair submitted an RFQ, or request for quotation, which is essentially a bidding proposal for a certain project or idea– in this case, it was Louisville Airport rotunda. McKay and Swanson's RFQ was selected. The pair also worked with UK alumnus Thompson Burry, School of Architecture instructor Peyman Jahed of Buell Fryer McReynolds Jahed Inc. Structural Consultants and fabrication facility MakeTime of Lexington, according to UKNow.
McKay and Swanson first designed it, Jahed then engineered it, and, finally, MakeTime fabricated it. McKay said the project was built here in Lexington.
"We looked around Louisville with the question, what represents the commonwealth well?" McKay said.
Inspired by bourbon stills placed all around Louisville and Lexington, the project is meant to be more of an experience, rather than just a piece of art.
"This is significant, the amount of people that will see it is extraordinary," McKay said. "This is something people can take away from their travel journey."
Travelers' view of the sculpture depends on where they are located in the airport, because every angle is a different type of viewing experience. As viewers move closer to the sculpture, they will see a moiré effect, which creates an illusion of movement of birds in flight or moving clouds.
McKay said he and Swanson each brought something to the collaboration.
"We come at it with different strengths. We do work collaborative and the outcome will be super exciting," McKay said. "Essentially we researched the same thing, two different paths coming together in one."
McKay said it was easy to work with Swanson and Burry.
McKay said this sculpture was definitely one of the pinnacles of his career, along with some of his art being placed in the UK Art Museum.
The project should be installed in the Louisville International Airport in the summer of 2018. For more information visit http://www.mikemckay.net/the-intertwining.html.
https://www.studyarchitecture.com/wp-content/uploads/5a5f637275e2b.jpg
467
774
Amanda Gann
Amanda Gann
2018-01-19 17:37:37
2018-01-19 17:37:37
UK Professors Design Sculpture for the Louisville International Airport