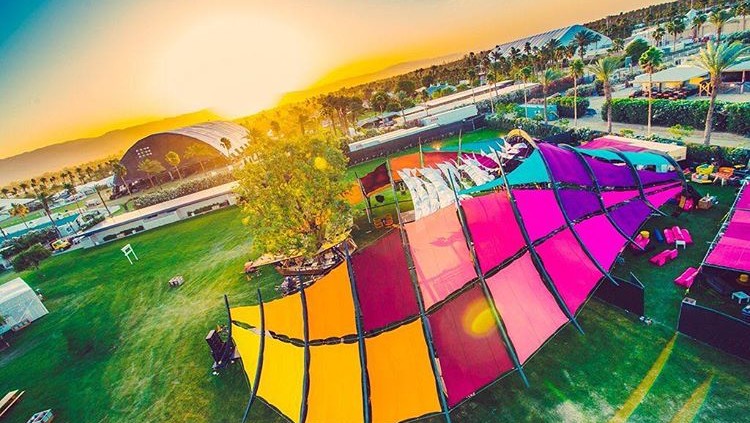 (via ArchDaily)
The Best Architectural Installations of Coachella 2016
Coachella, the annual music festival that takes place in California's Colorado Desert, is a spectacle on numerous levels, but it is the associated visual artists, architects, sculptors, and designers that are an often overlooked element of event's success. Below are the best architectural installations of Coachella 2016.
Like many of Arrechea's sculpture and installation works, Katrina Chairs began with a watercolor painting, A Few Days Before Katrina (Diálogo). Practical and immediate, watercolor is the artist's primary medium. He cherishes the watercolor as the only part of his process that he shares with no other hands.
With Katrina Chairs, he imagines a structure that lifts the community from the danger and encourages a dialog about the purpose and possibilities of space and design. He constructed the four Katrina Chairs with steel I beams covered with plywood. Each supports one side of an improbably situated building, a Dadaist juxtaposition that jolts viewers' sense of proportion. At 50 feet tall and 19 feet wide, the installations create a surreal environment that communicate a story and offer shelter from the sun in their deep shadows.
Jimenez Lai, The Tower of Twelve Stories:
Jimenez Lai courses fearlessly and thrives somewhere in the space between architecture and comic book art. The Taiwan-born architect's Downtown Los Angeles firm Bureau Spectacular focuses on experimenting with design through storytelling. The Tower of Twelve Stories is essentially a full-scale section model, a 52-foot-tall structure peeled open from top to bottom to expose the interior action. Its modules come together not in exacting cubes, but rather in cartoonish spaces of different shapes, some barely touching and others snug in place.
Jimenez Lai teaches at the University of California, Los Angeles.
Fascinated and inspired by the desert's phenomenal light, Smith advances the work of California's Light and Space pioneers of the late 1960s and '70s, particularly James Turrell and Robert Irwin. The idea of interacting with light and the sun traces to Smith's earliest works after studying art and architecture at Rhode Island School of Design.
His new installation, Portals, combines ideas from Lucid Stead and two series, "Lightworks" and "Light + Shadow," that he recently exhibited at Royale Projects in Los Angeles. The all-white pavilion is a ring, 85 feet in diameter, with outer walls of 3-by-3-inch mirrored stainless steel columns angled toward the center and reflecting a fractured view of the sky and crowd moving on the festival landscape.
World-renowned, Los Angeles based event producers, Do LaB, are pioneers in America's festival culture and the masterminds behind Coachella's wettest and wildest oasis, the Do Lab Stage. Aside from bringing cutting edge lineups, beautiful art installations and feel good vibes to the polo fields every year, Do LaB is best known for producing their own set of unique, interactive music festivals including Lightning in a Bottle, Woogie Weekend and Dirtybird Campout.
Project descriptions are from the festival's website.
—
(via ArchDaily)
https://www.studyarchitecture.com/wp-content/uploads/coachella_2.jpg
499
750
Amanda Gann
Amanda Gann
2016-04-26 17:14:21
2016-04-26 17:14:21
The Best Architectural Installations of Coachella 2016