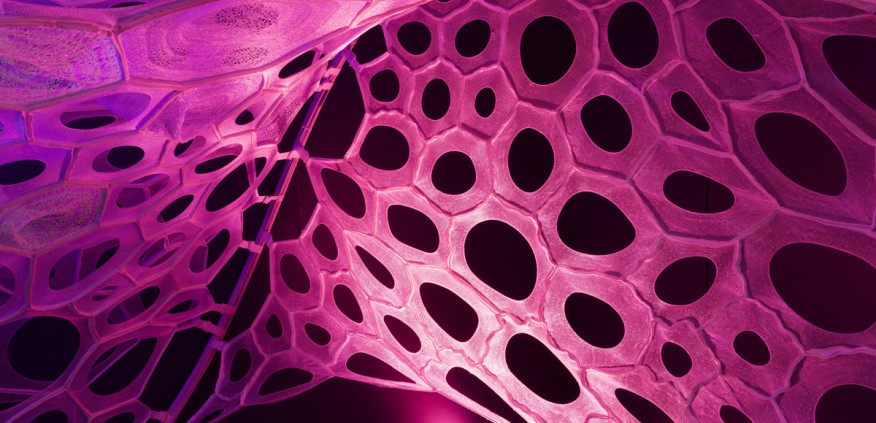 (via Architectural Lighting)
PolyThread Textile Pavilion: Illumination Through Absorption
"PolyThread," is a knitted textile pavilion designed by Jenny E. Sabin, principal of Philadelphia-based Jenny Sabin Studio and the Arthur L. and Isabel B. Wiesenberger assistant professor of architecture at Cornell University's College of Architecture, Art, and Planning. The luminous structure uses photoluminescent and solar-active yarns to capture and deliver light. The temporary pavilion is part of the Cooper Hewitt, Smithsonian Design Museum's Beauty—Cooper Hewitt Design Triennial exhibition in New York. This year is the design triennial's fifth installment, which focuses on aesthetic innovation, and features 250 projects by 63 design teams from around the world. The artworks in Beauty are organized into seven themes: extravagant, intricate, ethereal, transgressive, emergent, elemental, and transformative.
The seven-foot-tall, 400-square-foot knitted textile structure takes the shape of a rippled dome and is supported by a frame made up of aluminum tubes. Sabin's aesthetic was inspired by nature and mathematics. For the exhibit, the transition from day to night is simulated with the help of three Elation SIXPAR 200IP floodlights with 12, 12W 6-in-1 LEDs. The daisy-chained fixtures are controlled by an ETC Express LPC, Lighting Playback Controller that runs the day-to-night lighting sequence.
The team for "PolyThread" is comprised of Sabin and fellow studio design team members Martin Miller and Charles Cupples, engineers at Arup, and the fabrication team of Shima Seki and Andrew Dahlgren. The portable and lightweight pavilion is designed as a potential solution for providing illumination in parts of the world that have little to no access to electricity.
Beauty is on view at the Cooper Hewitt, Smithsonian Design Museum through Aug. 21, 2016.
—
https://www.studyarchitecture.com/wp-content/uploads/90_2.jpg
584
876
Amanda Gann
Amanda Gann
2016-04-22 17:45:53
2016-04-22 17:45:53
Cornell Professors build PolyThread Textile Pavilion: Illumination Through Absorption