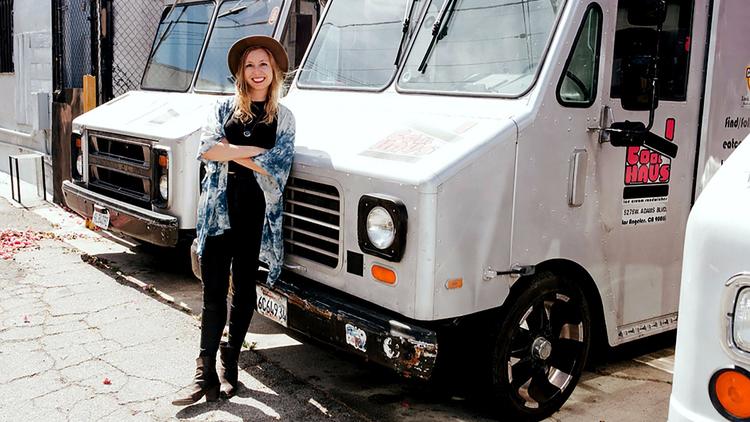 (via LA Times)
The gig: Natasha Case, 33, runs ice cream sandwich company Coolhaus, which she founded with partner Freya Estreller in 2009. The duo's whimsical, architecture-inspired creations are available in grocery stores — in packaged form — and in bricks-and-mortar Coolhaus stores in Culver City and Pasadena, where customers can pick the cookie and ice cream combinations. The company is staying true to its food-truck roots, with rolling dispensaries in Los Angeles, Dallas and New York.
L.A. start: Case, a third-generation Angeleno, grew up in Sherman Oaks. Her father was an architect; her mother, an animator at Disney. Case moved north to study architecture, Italian and urban planning at UC Berkeley but returned for her master's in architecture at UCLA.
"Farchitecture": Case said she had a "lightbulb moment" when one of her Berkeley professors criticized a creation she had made, describing it as a layer cake. "I remember thinking, why is that a bad thing?" she said. Case had been searching for a way to make architecture more accessible to the public, she said, and realized she could do that by combining food and architecture (hence, "farchitecture"). Her creations attracted crowds even back then. "It made me think I was on to something," she said.
Disney first: After UCLA, Case worked briefly at Disney Imagineering, which designs and builds Disney theme parks, hotels and other entertainment venues. That experience helped lay a foundation for Coolhaus. "Disney is about designing a brand and storytelling, not just architecture," she said. "That was really good backbone." As the recession set in, Case started to bring in homemade ice cream sandwiches named after architects — "Mies Vanilla Rohe" and "Frank Behry" were among the originals — to provide a bit of comic relief around the office.
Finding a partner: Around that time, in late 2008, Case was introduced to Freya Estreller, who worked in real estate. Estreller shared Case's interest in food but brought a business attitude. Estreller and Case began to strategize about how to build a business together. The food-truck craze was just beginning — with Korean taco truck Kogi BBQ having recently made its debut in L.A. — and craft ice cream wasn't really a thing yet. "We Googled 'hipster ice cream truck' and nothing came up," Case said.
The pair decided they would be the first, putting $2,900 on a credit card for a beat-up postal van that had been repurposed as an ice cream truck. They named the company Coolhaus, a triple pun on the name of architect Rem Koolhaas, the Bauhaus movement and the idea that an ice cream sandwich is like a tiny, cold house.
Coachella bound: In spring 2009, Coolhaus got its first big job as a food vendor at the Coachella Valley Music and Arts Festival. "Coachella was such big volume that it instantly forced us to think bigger scale," Case said. She and Estreller brought in co-packers, companies that work under contract with producers to manufacture food to the producers' specifications, to make enough ice cream and cookies. Giant freezers kept the products cold and allowed them to "scoop to order" for customers.
The only problem was getting there. The Craigslist ice cream truck had no engine, so Case bought a AAA premier membership, which comes with a free 200-mile tow. Case and Estreller sold their ice cream sandwiches at $3.50 apiece, including an edible wrapper. (Case said they hadn't yet figured out the true costs of running the business, and the price back then reflected that. These days, a custom ice cream sandwich costs $6 at a Coolhaus shop.) By the end of the festival, Coolhaus was in the black and had gained a cult following on Instagram and Twitter.
Growth spurt: Back home, Case and Estreller set about fixing up the truck. By the time they were up and running in L.A. a few weeks later, "we had a built-in audience," Case said. The duo focused at first on expanding Coolhaus' fleet of trucks, taking on New York in 2011. That year they also established a store in Culver City. Eventually they added a second in Pasadena and several more trucks.
Changing flavors: But it took an outsider to make them rethink their strategy. Bobby Margolis, who famously turned clothing company Cherokee Inc. into a licensing company, was a friend of Case's father and an early investor in Coolhaus. He encouraged her and Estreller to sell the ice cream sandwiches wholesale.
"Shifting the strategy was not something we saw early on," Case said. With wholesale, one might make half the revenue on a single item, but the item gets sold in bulk in many new markets. "It's a slow and steady trickle on a big scale," Case said. "That's a very different mentality than going out and trying to make a few thousand dollars at lunch on a truck."
But Case was willing to try. She started by walking into the Whole Foods in Glendale and just asking who she could talk to. Last year, Coolhaus did $7 million in sales, and wholesale made up about 75% of that, Case said. Today, Coolhaus offers pints and prepackaged ice cream sandwiches in about 6,000 stores, including major grocery chains Whole Foods and Safeway.
Advice: Case said her suggestion to would-be entrepreneurs, especially women, is to "think really big. Like, where is this going to take me in five to 10 years? How can this be the next biggest concept out there in my category?"
She also advised entrepreneurs with non-business degrees to think of their obstacles as strengths. "It's not like I got an MBA," she said. "You don't have to have this traditional tool kit to be successful."
Personal: Case is married to Estreller, who stopped working at Coolhaus in 2013. They live in Mid-City with their newborn son, Remy, and two dogs.
(via LA Times)
https://www.studyarchitecture.com/wp-content/uploads/coolhaas.jpg
422
750
Amanda Gann
Amanda Gann
2017-03-28 16:09:45
2017-03-28 16:11:18
Disney Imagineering to Coolhaus Ice Cream: Natasha Case