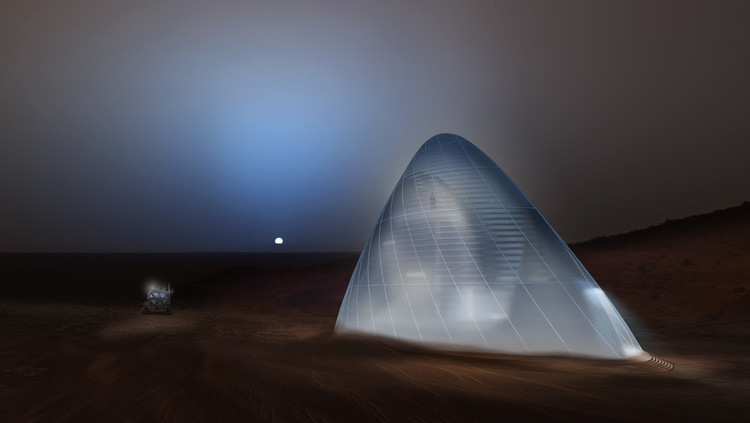 MARS ICE HOUSE from Mars Ice House on Vimeo.
(via CMU News)
Carnegie Mellon Visiting Professor Christina Ciadullo's Team Designs Winning Habitat for Mars
Visiting Ann Kalla Professor Christina Ciardullo and her team, SEArch (Space Exploration Architecture) and Clouds AO (Clouds Architecture Office), an architecture and space research collective, are the winners of the NASA- and America Makes-sponsored 3D Printed Habitat Challenge for Mars competition. Their proposal, ICE HOUSE, was awarded the top prize of $25,000 at the New York Makers Faire at the New York Hall of Science on September 26th and 27th, 2015 where the challenge's design segment culminated in the presentation of a 3D printed scaled model of their proposal.
The SEArch / Clouds AO team, with ties to Pratt Institute, Carnegie Mellon University, Columbia University, Princeton University, and Parsons School of Design, is comprised of award-winning designers Christina Ciardullo, Kelsey Lents, Jeffrey Montes, Michael Morris (project team leader) and Melodie Yashar of SEArch, and Ostap Rudakevych, Masayuki Sono, and Yuko
Sono of Clouds AO. Consulting on the project are fifteen leading space-related subject matter experts (SME's) comprised of scientists, astrophysicists, geophysicists, ice experts, structural engineers, roboticists and 3D printing engineers.
Ciardullo also consulted for the second-place competition winner TeamGAMMA in their design for a redundant inflatable system combined with a laser-sintering regolith construction technique.
Read more about the NASA Centennial Challenge, and see more information on the winning project.
(via CMU News)
—
Learn more about Carnegie Mellon's Architecture Program here!
https://www.studyarchitecture.com/wp-content/uploads/Mars-Ice-House_Dusk02_lr.jpg
486
750
Amanda Gann
Amanda Gann
2016-06-03 17:25:29
2016-06-03 17:25:29
CMU Students Win NASA 3D Printed Habitat Challenge for Mars Competition