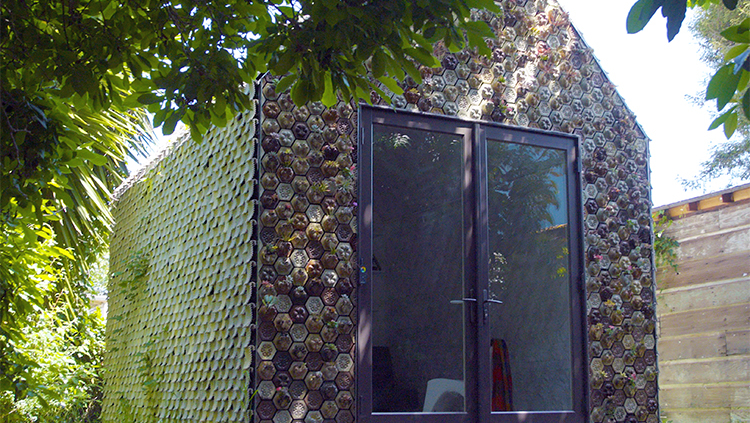 (via Berkeleyside)
UC Berkeley associate professor of architecture Ronald Rael's "Cabin of Curiosities" is a livable, water-tight structure in Oakland that was unveiled in May of 2018. With succulents growing off the exterior walls and a translucent interior, the cabin catches the eye and inspires wonder. What makes the structure truly unique, however, is not its beauty, but the fact that nearly every element of the cabin was constructed out of 3D-printed materials.
Built with the help of his partner Virginia San Fratello of San Jose State University, several students and alumni from Berkeley's College of Environmental Design, and supported by Berkeley's Bakar Fellowship, the cabin makes use of "upcycled" materials in its construction by repurposing discarded items like grape skins, salt, cement and sawdust and turning them into building materials to create a functional, sustainable living space.
This March, Rael's cabin was named the winner of the 2018 3D Pioneers Challenge, an international additive manufacturing technologies competition.
Berkeley News caught up with Rael to talk about constructing the cabin, the benefits of upcycled materials and the future of 3D-printed buildings.
Read the full interview here.
Learn more about the University of California Berkeley on their StudyArchitecture profile page.
https://www.studyarchitecture.com/wp-content/uploads/Cabin-WS-750x500.jpg
500
750
Max
Max
2018-09-13 01:29:25
2018-09-13 01:29:25
UC Berkeley's 3D-printed 'Cabin of Curiosities'