Glowing and misting, Jenny Sabin's latest work is a temporary outdoor installation that provides shade, seating and a refreshing mist for visitors to MoMA PS1 in Long Island, Queens.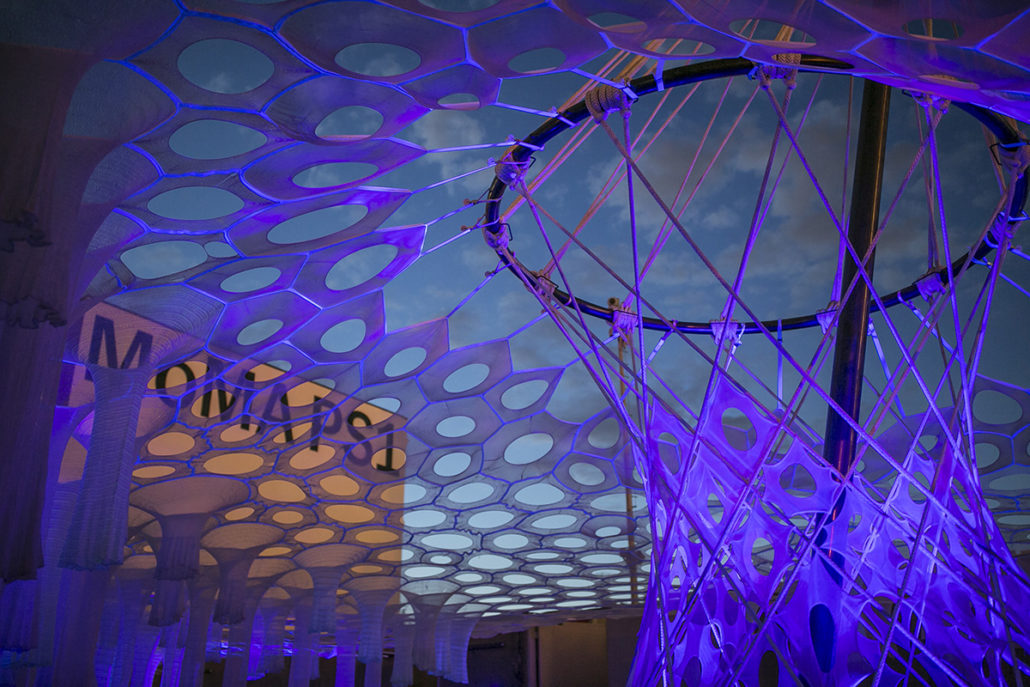 From the Cornell website:
"Lumen," Sabin's interactive knitted-fiber installation in the museum's entrance courtyard, was featured at a press reception June 27. Open to the public June 29 through Sept. 4, the project won MoMA's 2017 Young Architects Program (YAP) competition.
"From its conception, it was really important for this to operate as an environment, not just an object," Sabin said. "In the context of YAP, I was able to take it to a scale that I had never achieved yet, so it's really exciting."
Tethered to the courtyard walls and raised by steel-and-rope towers, two canopies float over the main courtyard and an adjacent smaller courtyard space.
"Lumen" incorporates fibers that react to and absorb energy from the sun, and provides different experiences by night and day, Sabin said. Solar-reactive fibers produce subtle colors – pinks and yellows, blues and greens – in sunlight, and photo-luminescent fibers glow brightly at night.
"It's meant to be touched and interactive," Sabin said. During the heat of the day, people walking through the installation trigger sensors connected to a misting system. As knitted shapes hanging down from the canopy sway in the breeze, "the misting encourages people to dance with it," she said. "This also was an opportunity to take some ongoing research in the lab in terms of interactivity to this kind of scale."
Sabin also designed a wooden dance floor in the main courtyard for summer events at PS1, and 100 recycled wooden spools, with fiber skins woven by a robot in her lab, provide seating within "Lumen." The canopy in the small courtyard also offers a space conducive to pause and reflection, she said.
"Lumen" will be a highlight of PS1's Saturday Warm Up series of musical events, from July 1 to Sept. 2, which attracts up to 40,000 attendees over the summer.
"This lighting program is an incredible way to highlight the music, and to make it really exciting for those visitors at night, amplifying the experience," said Molly Kurzius, MoMA PS1's director of communications. "It's something really dynamic and not just a static installation in the courtyard."
https://www.studyarchitecture.com/wp-content/uploads/Lumen-Jenny2-8558.jpg
800
1200
Amanda Gann
Amanda Gann
2017-06-30 15:03:22
2017-06-30 15:03:22
Cornell Professor Jenny Sabin's 'Lumen' Installation at MoMA PS1