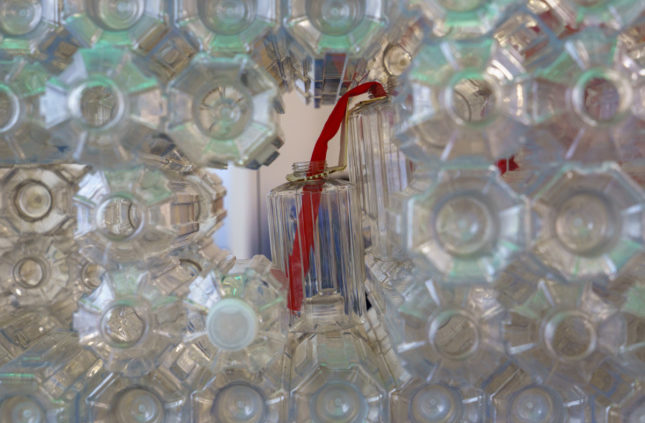 (via A|N)
Second Lives | After Bottles is an experimental prototype shelter designed by students at Rensselaer Polytechnic Institute that turns packaging into structurally-sound shelters. First assembled for NYC x Design Week 2018, this project took engineered plastic bottles which had an interlocking design to build a pavilion.
"Throughout the design studio, RPI students, educators, and engineers sought to design a shelter that would be self-tensioning, stable, and that used the least amount of materials. Even the bottles packaging has been integrated into the final design; the team has created a triangular wooden crate that can unfold to form a topography-following floor and acts as a base for the plastic walls above.
3D printed joints and cross bracing were used to connect bottles at angles other than what the bottles themselves allowed. Lydia Kallipoliti, project lead and Assistant Professor of Architecture at RPI, said that the aim was to ship as few materials as possible into a disaster area. With a 3D printer on the ground, crates of water and an assembly diagram could be shipped in and the required parts printed in-situ.
The team found multiple uses for the bottles, running LED lights through the bottles making up the roof, and filling bottles on the side with water and food for easy takeaway. Testing is still ongoing to ensure that the final design would be tight enough to keep out rainwater.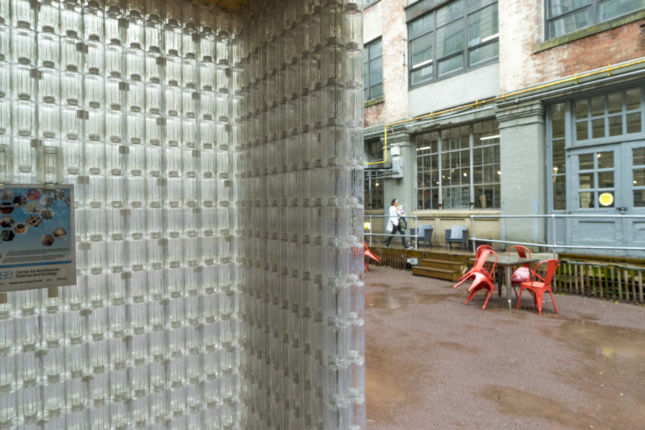 Another structure made from the same interlocking bottles was set up across from the Wanted exhibition hall, this one courtesy of RPI's Center for Architecture Science and Ecology (CASE). The CASE team has built their "testing chamber" by arranging the bottles vertically and have been monitoring the internal heat, humidity, and air quality. Making sure that the bottles aren't decomposing and releasing volatile organic compounds (VOCs) is especially important, as the UN has strict air quality guidelines for disaster shelters.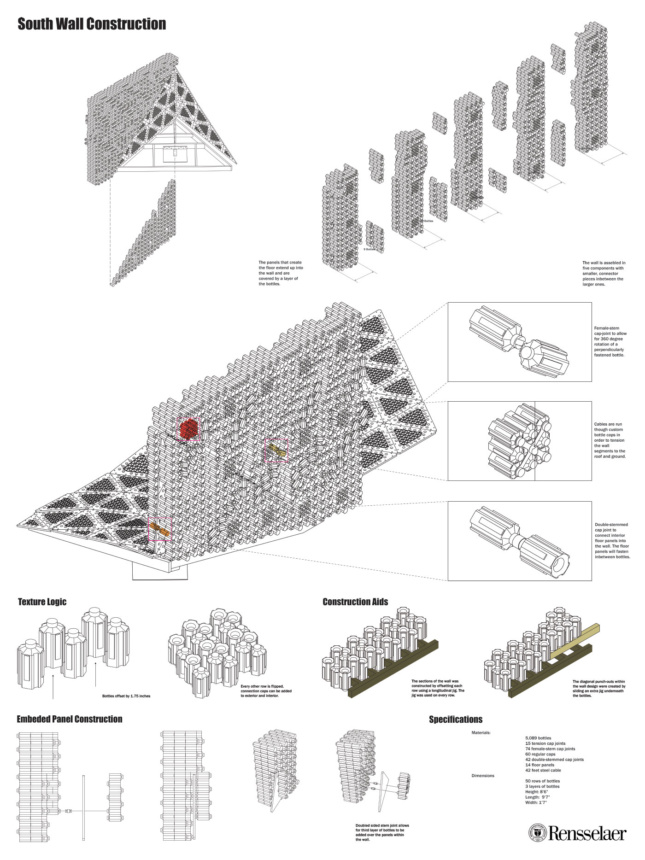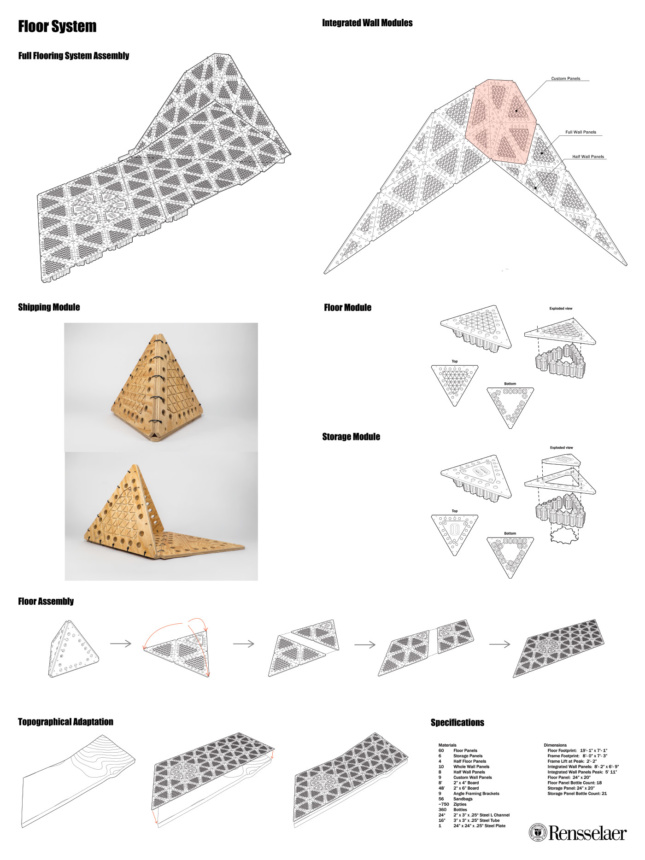 Ultimately, the goal of Second Lives isn't to introduce a new bottle into the plastic ecosystem, but to convert existing companies over, said Kallipoliti. If the Cokes and Pepsis of the world switched to a bottle that could then be used as a construction material, the worldwide reduction in waste would be immense."
Project Lead: Lydia Kallipoliti (Assistant Professor of Architecture, School of Architecture, Rensselaer Polytechnic Institute)
Project Team: Adam Beres, Bryce Crawford, Amanda Esso, Reed Freeman, Emily Freeman, Jacob Laird, Deegan Lotz, Christopher Michelangelo, Arun Padykula, Raina Page, Abigail Ray, Daniel Ruan, Emily Sulanowski, Stefanie Warner
Collaborators: Tom Roland (Fabrication Coordinator, School of Architecture, Rensselaer Polytechnic Institute), Andreas Theodoridis (PhD Candidate, Center for Architecture, Science and Ecology/ Rensselaer Polytechnic Institute)
Structural Engineer: Mohammed Alnaggar (Assistant Professor of Architecture, Civil and Environmental Engineering, Rensselaer Polytechnic Institute)
Sponsor: Friendship Bottles LLC, Timothy Carlson (Managing Partner)
https://www.studyarchitecture.com/wp-content/uploads/Bottle-small-detail-wanted-pavilion-645x430.jpg
430
645
Amanda Gann
Amanda Gann
2018-06-04 19:43:08
2018-06-04 20:07:04
RPI Turns Packaging into Protective Shelters