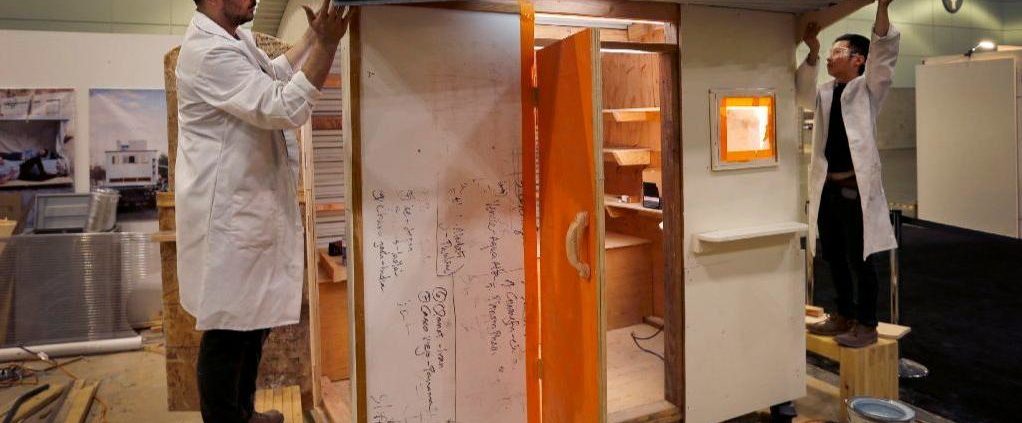 From trash to treasure, University of Southern California (USC) students Jayson Champlain and Joseph Chang are transforming forgotten materials into tiny portable houses that could serve as temporary shelter for people experiencing homelessness in Los Angeles.
According to LA Times, "Jeremy Carman was driving around Boyle Heights recently when he spotted a rolled-up garage door on the side of the road.
'That's it,' the 25-year-old thought. The garage door would make the perfect roof for the 8-foot-tall house that he and four other USC architecture students were building over the weekend to draw attention to the lack of permanent supportive housing for the homeless in Los Angeles — and to raise money for a solution."
The students gathered materials from construction trash bins, street corners and alleys in LA then came together to build a small white house with a bright orange door, "complete with a cupola, eaves, and wheels for mobility."
The students built the house at the Dwell on Design Conference, held at the Los Angeles Convention Center.
To learn more, read the original post on LA Times entitled "Trash to Treasure: USC Architect Students Build Tiny Portable House to Raise Awareness About Homelessness." 
---
Visit USC's Study Architecture Profile page to learn more about their architecture program!
https://www.studyarchitecture.com/wp-content/uploads/usc_homelessness.jpg
575
1022
Amanda Gann
Amanda Gann
2017-06-26 18:28:17
2017-06-26 18:35:34
USC Students Raise Awareness About Homelessness