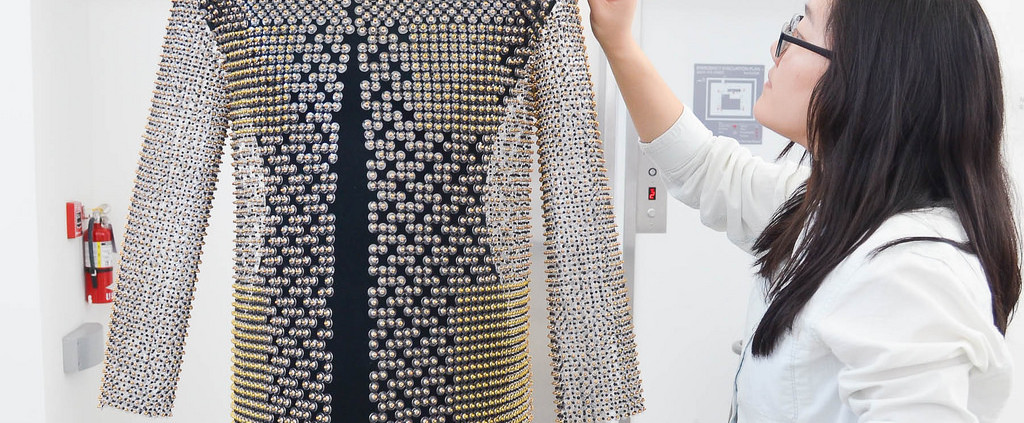 Visit University of Southern California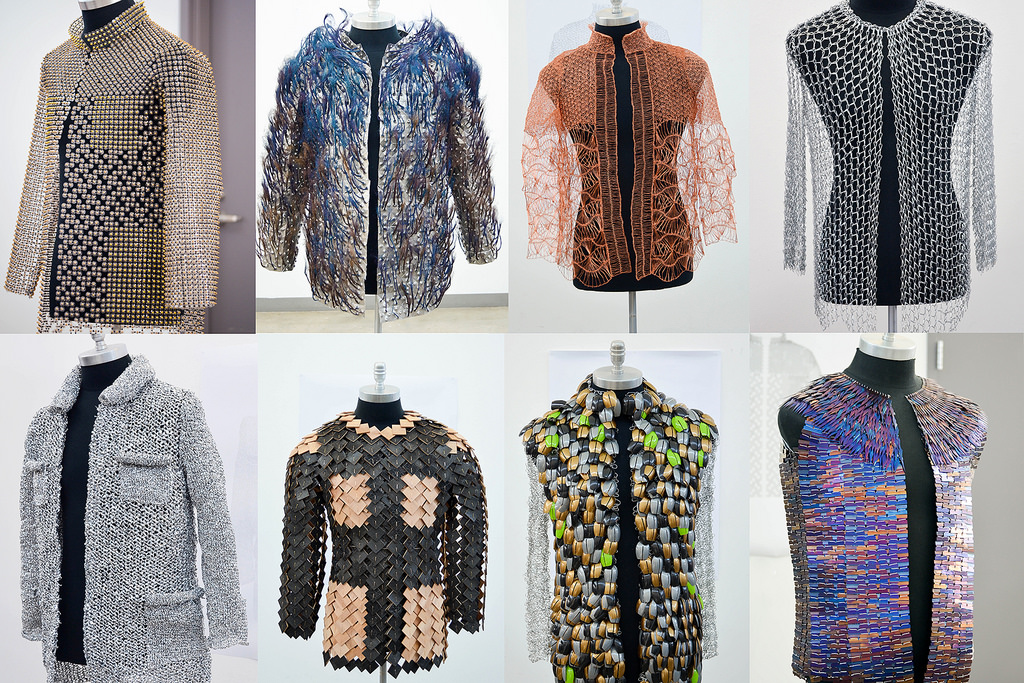 (Via USC News)
Combine dry ice, PVC pipe and glass, and you produce a smoking jacket – literally.
That creation by USC School of Architecture fifth-year student Nicolas Oueijn was one of 11 jackets made from unlikely materials as part of associate professor Lee Olvera's "Craft in Making" studio. The jackets were on display March 2 on the third floor of Watt Hall.
This year, several fifth-year students experimented with heating and treating metal.
Peter Jeung discovered that baking X-Acto blades and industrial razor blades in a 500-degree oven turned them stunning shades of color.
Alex Nielsen baked wads of steel wool and poked them into holes he had punched in thin gauge steel for his "Full Metal Jacket" creation.
Leo Chaung turned galvanized roofing nails lethel by dipping them in phosphoric acid and then spraying them with water until they rusted in an artistically pleasant way. The result? A spiky jacket aptly named "Tetanus."
Limited time, materials
The students had only a few weeks to create the jackets, using no more than two materials. Once the materials were chosen, they could not be changed, no matter how challenging or tedious working with them proved to be.
Chris Penfold, for example, had to cut cedar into 1,000 small squares, each of which needed to be sanded and linked together with jewelry wire. The fun part, he said, was burning pieces with a blowtorch to create different colors and textures.
It took forever for Aimee Sun to knot together 18,000 white zip ties for her "Cocoon" jacket. By exhibition time, it was still a vest, not a jacket: The sleeves had yet to be finished.
"All of them stay vests for a very long time, because the pattern on the arms is a very difficult thing to resolve," Olvera said. "The materials that are not flexible – I see them kill themselves trying to get them to work. I call it generative detailing. You don't know that there's going to be a problem until you are doing it."
The assignment, which Olvera has given to fifth-year students for several years, is an exercise in materiality – how a material will react when shaped to fit a design. It also is an exercise in perseverance and finding solutions.
"They have a very brief window of experimentation, to give the jacket pattern, and then they have to make it and it has to work," Olvera said. "This realization that there's no getting out of it leads to the tenacity and the obsessiveness. There's a great will to do it."
(Read the full story at USC News)
https://www.studyarchitecture.com/wp-content/uploads/24853445454_a471ea0b37_b.jpg
745
1024
Pascale
Pascale
2016-03-10 17:20:40
2016-05-11 16:00:08
You made a jacket out of what? Architecture students use unlikely materials — and their wits