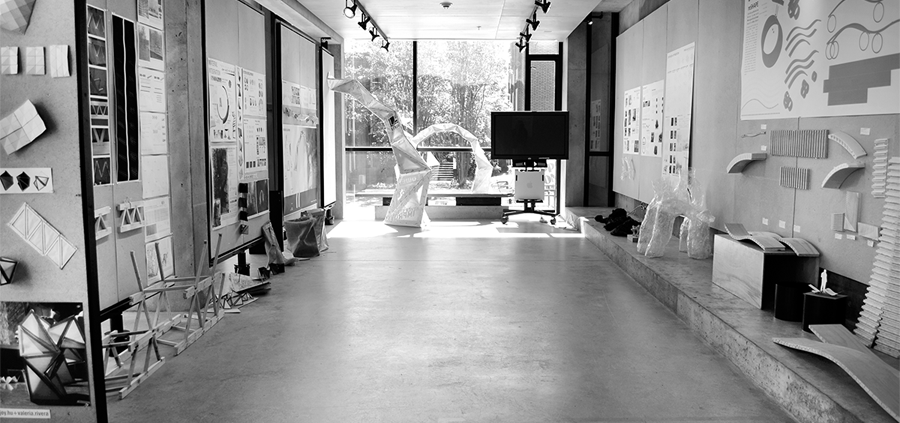 So, you want to study architecture? Here's what you should consider when choosing a program. With few exceptions, this path starts with earning a professional degree. At one extreme, a high school student may enter a professional program; at the other extreme, a 4-year college graduate may make a mid-career decision to become an architect, and can enroll in a three-year professional graduate program.
It is never too late to study architecture. However, it is important that students be aware of the differences among degree paths and enroll in a program that is appropriate for their interests and long-term career plans.
What is a "Professional" Degree?
Schools of architecture are not accredited—only specific professional degree programs are accredited. There are 141 universities offering 'professional' architecture degree programs in the United States and Canada. These degrees are either the Bachelor of Architecture (B.Arch.) degree, the Master of Architecture (M.Arch.) degree, or Doctor of Architecture (D.Arch.) degree. Having a professional degree is important for meeting the educational qualifications necessary for architectural licensure. For up-to-date requirements on these requirements, contact the National Council of Architectural Registration Boards (NCARB) and the Committee of Canadian Architectural Councils (CCAC).
However, accreditation does not mean that all schools are the same. Every program has has distinctive features and approaches to architectural education, and students can find programs that match their intellectual and career interests. Program features influence the kinds of courses students may take as well as the kinds of career opportunities available. The good part of considering these and other variables is that choosing a career in architecture is not just choosing a single track; many career options are available because schools of architecture celebrate and encourage diversity.
Paths to the Professional Degree
There are three typical paths to obtaining the professional degree in architecture:
Take a look at our infographic showing an architecture student's journey.
1. The professional Bachelor of Architecture degree is often the most direct way of obtaining the professional degree required for licensure. This route normally takes a minimum of five years of study.
Although a five-year program provides the quickest route to satisfy the academic requirements for licensure, speed is not necessarily the best option for everyone. Many Bachelor of Architecture programs begin with a concentration of architecture courses in a fairly prescribed manner. The range of electives may be narrower and exposure to other fields limited. As a result, those who wish to transfer out of the program may have difficulty transferring certain credits.
Many Bachelor of Architecture programs, however, have devised curricular structures that allow flexibility for students. They break the curriculum into segments that provide logical entry and exit points from the various phases of the five-year program. In most schools, the student's work is carefully reviewed before advancement to the next phase. Such points provide a relatively easy means of transfer into an architecture program; transfer to another institution, particularly between degrees; or transfer to another academic discipline.
Most professional degree programs also accept transfer students at the designated break points, but transfer credit is usually evaluated on an individual course-by-course and case-by-case basis. While the structure of some programs makes it relatively easy for a professional school to accept transfer students from both junior colleges and other colleges, it is recommended in most instances that a student considering an architecture degree start directly either at the professional school or at a school with a pre-professional program.
2. The Pre-professional degree plus professional Master's degree (commonly referred to as the "4+2″ route) normally requires six years to complete, and offers more flexibility than a single five-year degree path. At the end of four years, the student has a pre-professional undergraduate degree in architecture. From that point, the student may decide to complete the Master of Architecture degree, spend a year or two fulfilling experience requirements, or change disciplines and pursue study in another field.
Pre-professional programs are not professionally accredited and vary with respect to title, emphasis, electives, requirements, and specific architecture offerings. They are, however, preparatory for advanced architectural or other environmental design fields.
3. The non-architecture degree plus professional master's degree (commonly referred to as the "4+3" route) path is the third route. This route normally requires seven-and-a-half years of study (a four-year undergraduate degree plus a three-and-a-half-year Master of Architecture degree) and is usually taken by those who have embarked on a career other than architecture and later decide to study architecture. The immersion into architecture is quick and very intense. Be sure to talk to your school about their specific admission requirements into their graduate program.
https://www.studyarchitecture.com/wp-content/uploads/11168544_1601798203400500_8771370511532422012_n.png
601
900
joe
joe
2016-03-10 19:50:00
2016-03-17 03:11:19
Choosing Your Path