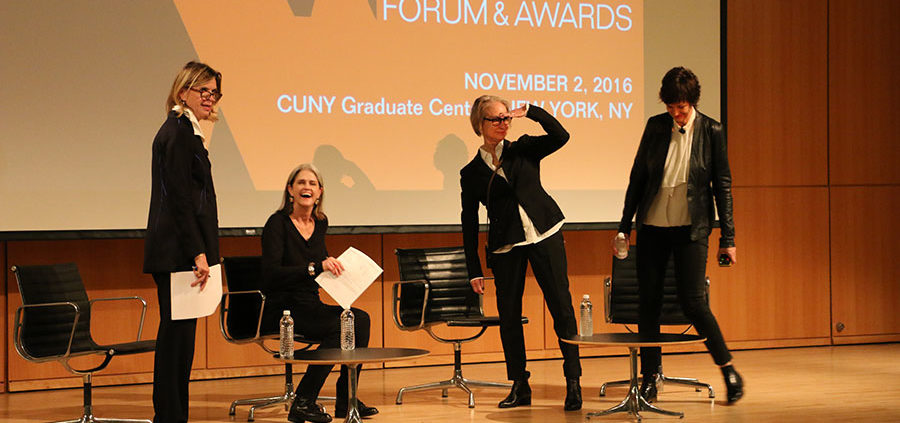 (via Architectural Record)
Architectural Record hosted its third annual Women in Architecture Forum & Awards symposium November 2 at New York City's CUNY Graduate Center. The program is intended to recognize leading female architects and spark discussion about key issues facing women in the architecture profession.
This year's event revolved around the theme of diversity in architectural education. Three panelists—all leaders in academia and founders of their own practices—discussed the challenges women architects continue to face, both in school and in the working world, as well as strategies to promote young female architects.  
Deborah Berke, the first woman dean of Yale School of Architecture, Donna Robertson, former dean of the College of Architecture at the Illinois Institute of Technology and one of this year's award recipients, and Winka Dubbeldam, chair and professor of graduate architecture at PennDesign at the University of Pennsylvania, participated in the conversation, moderated by RECORD editor-in-chief Cathleen McGuigan.
The panelists kicked off the discussion by citing female enrollment statistics and faculty positions at their respective institutions ("The numbers are not encouraging," said Berke), and the ways in which they, as leaders in education, could enlist lasting change.
"I think that we could be more radical and change the perception of the practice of architecture. We need more multidisciplinary models," said Berke. "Women need to be explicitly taught how to start businesses," she added. 
Dubbeldam noted, "As a university, it is important to support women in being more competitive and proactive in asking for things."
The three women touched on range of topics, from the obstacles that confront working mothers, to the importance of women advocating for each another.
The panel discussion was followed by a ceremony honoring this year's award winners: Susan T. Rodriguez, Designer Leader; Amale Andraos, New Generation Leader; Jenny Sabin, Innovator; Donna Robertson, Educator/Mentor; and Roberta Feldman, Activist.
Read more about the third annual award recipients here.
https://www.studyarchitecture.com/wp-content/uploads/Women-in-Architecture-01.jpg
550
900
Amanda Gann
Amanda Gann
2016-11-09 14:46:46
2016-11-09 14:48:13
ArchRecord Women in Architecture Forum & Awards