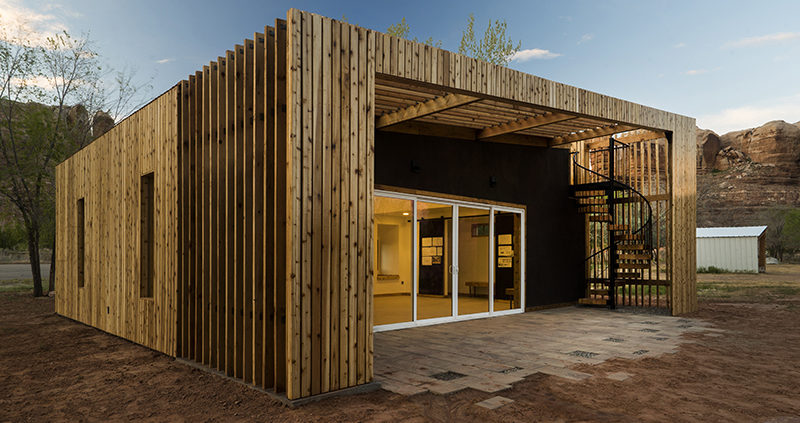 "DesignBuildBLUFF is a graduate architecture program at the University of Utah focused on immersing students in hands-on cross-cultural experiences. We work in partnership with the Navajo community of San Juan County in the Utah Four Corners." – DesignBuildBLUFF.org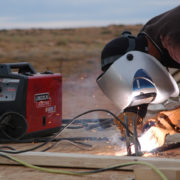 (via Daily Utah Chronicle)
The University of Utah's school of architecture graduate program has launched another year of DesignBuildBLUFF.  The program gives students the opportunity to be involved in hands-on cross-cultural experiences.  They work in partnership with San Juan County's Navajo community.
"We offer students an opportunity to design and build a full-scale work of architecture in collaboration with the Navajo people," said program director Jose Galarza. "We emphasize sustainability and a respect for the unique social, cultural and environmental needs of the region."
The program's focus on sustainability can be seen in a recent project called Cedar Hall.  The building is an 850-square-foot structure and has white walls. Features of the building include rain water collection and a soon-to-be-installed solar energy system.  The framework is comprised of approximately 70 percent recycled material taken from a demolished house in Park City.
In the past, projects have been small, single-family homes that were assigned by tribal chapters.  Recently, however, projects have been designed to develop the community.  The last 12 years have been spent renovating historic buildings and now the group is working on constructing modern community buildings.
One of the residencies that architecture students constructed, affectionately named 'Badger Springs' after a nearby water source, is made primarily from recycled materials. It relies on natural cooling and ventilation and uses a wood-burning stove for heat in the winter. The home is outfitted with solar panels for maximum energy efficiency. The students cooperated with the family living in the home throughout the process to ensure their needs were met.
The goal of the program is to tie community building with better living conditions in order to enhance the health of the community.
"Our hope is for this space to be a teaching tool and a gathering center for the community," said architecture student Max Wood in reference to Cedar Hall.  "While we were there, the local elementary students came to tour the property each month to learn about the materials we were using and how we recycled old lumber."
Wood noted that the vision is for the community to use the space as a dynamic, multi-purpose center with activities ranging from elementary school art galleries to voting poll locations in the future.
---
https://www.studyarchitecture.com/wp-content/uploads/Cedar-Hall-101.jpg
534
800
Amanda Gann
Amanda Gann
2016-11-08 15:13:53
2018-06-26 05:42:54
University of Utah Students DesignBuildBluff Program