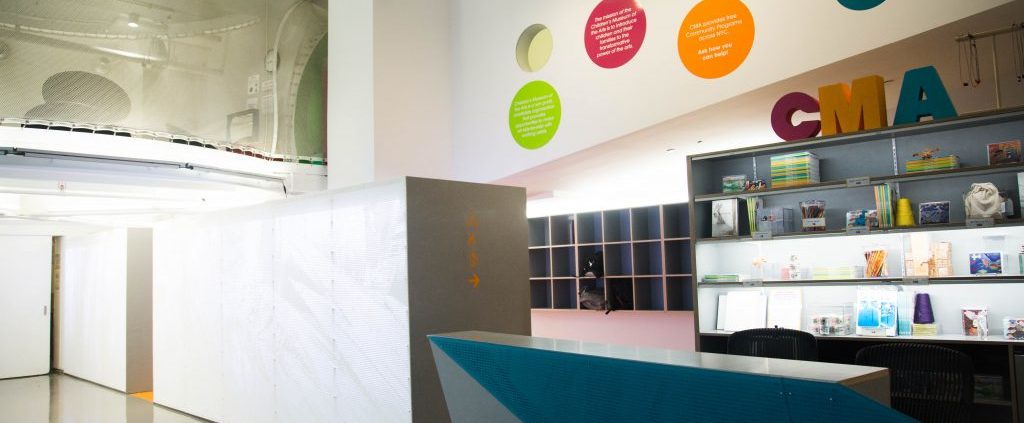 (via The New School News)
When you consider the function of a lobby, ideas like "entrance," "waiting area," or maybe "the way to get from the door to the elevator" probably come to mind.
But a lobby is more than just a way to get from point A to point B: It's also meant to convey a lasting image of the institution or business.
That's the kind of thinking that motivated students and faculty members at The New School's Parsons School of Design in the transformation of the 1,200-square-foot entrance hall of the Children's Museum of the Arts (CMA) in TriBeCa.
Led by Design Workshop, an innovative design-build studio comprising graduate architecture students, the project highlights Parsons' commitment to design-led civic engagement and its real-world educational approach.
"The 'learning by doing' model, which is the backbone of the Parsons Design Workshop, affords our students the opportunity to fully realize their designs in built form," says Joel Stoehr, director of Design Build Projects at Parsons' School of Constructed Environments. "Student designers learn how an idea evolves from concept sketch to construction document to building permit and how these ideas are realized in the transformation of raw material into constructed artifact."
Designed during the spring 2017 semester and constructed over the summer, the renovation was created to meet several of CMA's design needs, including stroller storage, acoustics, branding, and increasing visibility of the visitor services desk. The centerpiece of the renovation is a new wall made up of two layers of perforated plastic illuminated by colored lights. The wall divides the lobby space into a "functional side," which includes a new stroller parking area and storage space, and a "fun side," a gathering space "where visitors of all ages are delighted by the light and pattern," according to Angela DeGeorges, MArch '18, a Design Workshop student who worked on the renovation.
"The CMA renovation is a spatial reorganization that accommodates the diverse and changing needs of the museum," she adds. "Our strategy was to address each of CMA's challenges with an architectural intervention that solves a problem but also brings visual delight to the space."
Additionally, a series of dichroic acrylic panels suspended from the ceiling in front of the large south-facing windows allow light of different colors to be simultaneously reflected and transmitted. When parents check in to CMA, "the open lobby allows children to play in the colorful light projecting on the floor from the windows, be intrigued by a chase of color along the wall, or dance in front of an interactive art piece by Danny Rosen," according to the students who worked on the project.
A challenge faced by those working on the project was making sure that the materials used were both environmentally friendly and safe for children visiting CMA. That's where Parsons' Healthy Materials Lab (HML) came in. Jack Dinning, head researcher at HML, conducted workshops and consulted with Design Workshop students throughout the design, product evaluation, fabrication, and installation processes.
"Kids are particularly vulnerable to the effects that toxic materials can have on their health," Dinning said. "Exposures during this stage of life can disrupt their early developmental processes, both physical and cognitive, leading to disorders ranging from asthma to learning disabilities to life-threatening illnesses like childhood brain cancers."
With this concern in mind, Dinning and the students incorporated safer rubber flooring, sustainably forested plywood, and acoustic treatments made of recycled plastic.
Design Workshop echoes the real-world experience of collaborating with a real client. With guidance from Parsons faculty members Sharon Sutton, Nick Brinen, Mark Gardner, and Stoehr and assistance from West Chin Architects and Conto and Sons contractors, students participated in focus groups with museum visitors and conducted research before creating a proposal. During construction, they made decisions about which materials and hardware to use and generated shop drawings outlining their proposed design. By collaborating with a client, they had a chance to get their hands dirty and familiarize themselves with all aspects of the design and building of a commissioned project.
The CMA lobby renovation is the latest project highlighting Parsons' and Design Workshop's commitment to design-led civic engagement. Past collaborations include the creation of a seating area at El Sitio Feliz, a popular community garden in Harlem; and changing room pavilions at the Sunset Park Recreation Center pool in Brooklyn and the Highbridge Recreation Center in Washington Heights.
In the renovation of the CMA lobby the Parsons students had a very satisfied client.
"The new lobby strengthens our ability to welcome all children and their families to make art at CMA," says Barbara Hunt McLanahan, executive director of the museum. "We are delighted to have the opportunity to work with students from The New School to create an innovative and inviting entry to the museum. We look forward to welcoming visitors into our new lobby and lounge."
Learn more about Parson's School of Design here.
https://www.studyarchitecture.com/wp-content/uploads/CMA_designworkshop_-7-1-1024x683.jpg
683
1024
Amanda Gann
Amanda Gann
2017-10-02 14:09:59
2017-10-02 14:52:01
Parsons' Design-Build Project Transforms the Entrance Hall of Children's Museum of the Arts