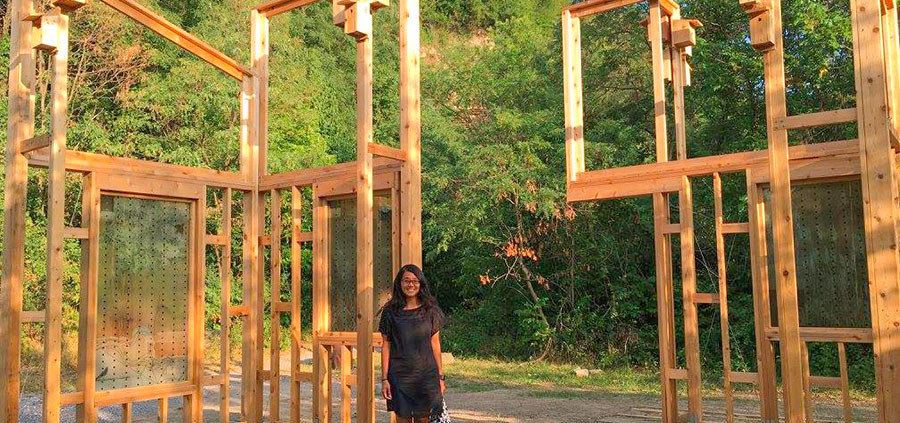 This article was originally posted on UB's News Center. 
"I've been interested in creating work that not only provides habitable conditions for urban wildlife, but also draws attention to them as an important part of our ecosystem."
University at Buffalo architect Joyce Hwang's latest animal architecture creation is a bird-friendly public art installation that both promotes awareness of local avian species and calls attention to a common but often invisible peril: bird-glass window collisions.
Bower — which was co-designed by Hwang and New York City-based artist Ellen Driscoll and sited along a wooded trail in Artpark in Lewiston, New York — is a series of architectural fragments that host bird nesting boxes and feature custom-designed glass "windows" composed of drawings and anti-bird-strike patterning. A bower is a leafy shelter of recess, an arbor or a rustic dwelling.
The opening event for Bower will take place at 6 p.m. on Thursday, Aug. 11, at Artpark (450 S 4th St, Lewiston). It is free and open to the public. The installation is located at the entrance to the Upper Gorge Trail.
The nesting boxes are designed to accommodate a variety of local bird species, such as chickadees, wrens, bluebirds and purple martins. The window images are created from drawings that depict local bird species that have come to prefer human-made structures to nest in. Some, like the purple martin, make an annual journey of 3,000 miles from North America to Latin America and back again.
The images in the windows are overlaid with a grid of dots, a pattern that prevents birds from colliding with the pane of glass.
"Bird-glass collision is one of the most significant causes of bird mortality in urban areas. Yet, this condition is often overlooked," says Hwang, an associate professor of architecture whose research at UB, and through her practice Ants of the Prairie, explores the boundaries and relationships between the built environment and contemporary ecologies.
"While there are a growing number of organizations that are beginning to address this issue through legislation, I think it is important for designers to more tangibly draw awareness to birds and their safety," Hwang said.
The intent behind Bower was to create a structure that challenges the idea that building enclosures serve as a boundary between the inside and outside, between us and "them" — them being the wilderness, animals or the weather.
"I see habitat loss in cities as a significant ecological condition to contend with. I've been interested in creating work that not only provides habitable conditions for urban wildlife, but also draws attention to them as an important part of our ecosystem," says Hwang, whose previous works include Bat Tower in Griffis Sculpture Park and Habitat Wall: Chicago, a sculptural habitat for birds and bats.
Bower is the inaugural program for Artpark as a Living Laboratory, a multi-year initiative to transform Artpark into a collection of artistic strategies that advance environmental awareness, literacy and sustainable development.
It was commissioned by Artpark along with Mary Miss, who directs City as Living Laboratory (CALL), an organization dedicated to addressing environmental issues through meaningful engagement of diverse communities.
Hwang and Driscoll, who is also professor and director of the studio arts program at Bard College, worked with Matthew Hume, adjunct assistant professor of architecture at UB, on the project's construction and installation.
Thursday's event will include a presentation, reception and walking tour led by the three faculty members, along with Lauren Makeyenko of the Audubon Society and Mary Miss.
Bower's design and fabrication team included several current and former architecture students: John Nathaniel Costello, Olivia Rose Arcara, John Wightman and Casey Hume. Katharina Dittmar, associate professor of biological sciences in UB's College of Arts and Sciences, and graduate student Heather Williams provided ecological consultation. Structural engineering was provided by Mark L. Bajorek, with glass fabrication by Moon Shadow Glass.
The three architectural fragments that comprise Bower are made of cedar. The tallest point is 15 feet above ground. Creating the foundation for the installation posed a unique challenge.
"Artpark encouraged us to find a new way to make a foundation rather than pouring a concrete pad. We were also not allowed to dig into the ground due to regulations at Artpark, so we had to develop an innovative solution," Hwang said.
The foundation, developed in collaboration with Bajorek, a local structural engineer, is composed of four layers of wood framing that is weighed down by earth and gravel.
Bower was developed with support from the Garman Family Foundation and Pamela and Joseph Priest.
A presentation on Artpark Percussion Garden, another UB project, will take place at 7:30 p.m. Thursday. Artpark Percussion Garden is a series of installations by UB's Percussion Ensemble presenting playful opportunities for visitors to explore different ways to interact and produce sound.
---
See the University of Buffalo Architecture Program's profile on StudyArchitecture! 
https://www.studyarchitecture.com/wp-content/uploads/Hwang-Bower-project.jpg
600
900
Amanda Gann
Amanda Gann
2016-08-10 18:27:59
2016-08-10 18:36:42
Building for the Birds